VANDENBULKE is pleased to announce the publication of his 2019 edition on Luxembourg Legal Finance. Our finance lawyers have combined their expertise to deliver a comprehensive "four-parts" contribution on the essentials to know about Luxembourg financial regulations. This edition compiles VANDENBULKE's writing contribution in four main areas: Acquisition Finance, Securities Finance, Structured Finance & Securitisation as well as Loans & Secured Financing.
Each section provides, under an accessible question-and-answer-format, an analysis in the key areas of law and underlying policies in key Luxembourg finance topics.
This book is a 2019 must-have edition for all those who intend to carry out financial transactions with Luxembourg. It is also a VANDENBULKE's commitment to provide general counsel, investment bankers, government agencies, private equity houses and other institutional investors with practical and useful tools for approaching the Luxembourg market.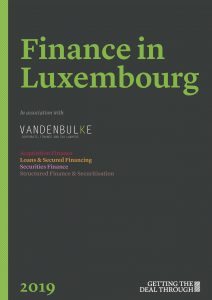 Upon reques we would be pleased to send you hard copies of the full Report.
Your key contacts: Denis Van den Bulke, Laurence Jacques, Thomas Bedos
Reproduced with permission from Law Business Research Ltd. The articles were first published in Getting the Deal Through. For further information please visit www.gettingthedealthrough.com