We are thrilled to announce that this year again our firm has been shortlisted for  Law Firm of the Year Benelux, European Specialist Law Firm of the Year and Managing Partner of the Year in "The Lawyer" European Legal Awards 2022.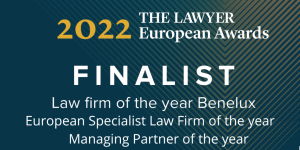 After having been crowned "Best 2020 European Specialist Law Firm", Vandenbulke strikes back in the 2022 edition of The Lawyer European Awards, most coveted prize in the legal profession,  with a nomination in two categories "Law firm of the Year Benelux" and "European Specialist Law firm of the Year".
Members of the Jury acclaimed as well Denis Van den Bulke, our Managing Partner, who is also shortlisted as "Managing Partner of the Year". What else to say that we are again delighted to be recognized by The Lawyer as being part of "the crème de la crème" in the European Legal Market. The Award ceremony will be held in London on 29 November 2022, and of course Vandenbulke will be there to step on the red carpet.
Being shortlisted amongst the best in the European legal industry is a direct result of the collective efforts of our team working together to ensure a strategy of excellence ensuring clients an exceptional service.
We would like to thank our clients and global partner firms for their trust and loyalty allowing us to continue to grow and reach our ambitions.