After having been crowned by The Lawyer as "European Specialist Law firm of the year", VANDENBULKE continues to be recognised as one of the best law firms in Luxembourg.
The French legal guide "Leaders League"* has just released their rankings for 2021, promoting VANDENBULKE'S Banking & Finance practice to their "Excellent" tier of Best Law Firms for Banking & Finance, placing the firm amongst the top law firms in Luxembourg.
VANDENBULKE is also "Highly Recommended" in the following categories:
✅ Best Law Firms for Fund Structuring
✅ Best Law Firms for Real Estate
✅ Best Law Firms for M&A
✅ Best Law Firms for Corporate Tax
VANDENBULKE's Private Equity team is also "Recommended".
Denis Van den Bulke comments:
"We are delighted to be featured as a significant high-quality player in the Luxembourg market by French guide Leaders League. Our firm has been focusing originally on Anglo-Saxon transactions, although several of our lawyers are native French, fully conversant with French law and the firm as a whole has strong connections in the French legal market.  Our 2021 strategy is to increase our ties with French business law firms seeking Luxembourg independent specialized expertise in corporate finance and tax matters.
We are convinced that France will play an active role in the post-Brexit era in newly designed EU financial markets.  No doubt also that Luxembourg will be an inescapable financial center for Europe. We definitely have the ambition to play a significant role in Luxembourg- driven transactions initiated from France in our capacity of best specialist law firm.  This excellent rating if ever needed will give them the comfort that they will receive a three-star service in Luxembourg ".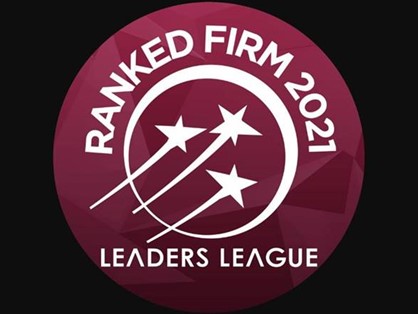 *Leaders League's rankings are based on extensive research and interviews with company executives, in-house counsels, associations, institutions and industry experts.