2019 edition of IFLR 1000, the Guide to the World's Leading Financial Law Firms, praises VANDENBULKE for outstanding client service standards and highly regards all his partners.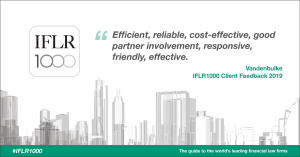 The newly released 2019 edition of IFLR1000, The Guide to the World's Leading Financial Law Firms, recognised again VANDENBULKE as the pre-eminent independent Luxembourg law firm in all categories. All VANDENBULKE partners are ranked as "highly regarded" in their specialized practice areas, whether in finance, corporate or investment funds. Reference is also made to one of its promising senior associates.
VANDENBULKE is praised for his competence, pragmatism, responsiveness and high quality standards.
Clients' endorsements speak highly.
"VANDENBULKE delivers highly competent legal advice and aims to find pragmatic solutions to any problem along the road. The individuals working at VANDENBULKE are very committed and personally involved. They are always up to date in the matters they are involved in and very responsive. Their legal skills and personal savvy make working with VANDENBULKE a pleasure.
"I have been working with VANDENBULKE for some time now and I have been very happy with their services. The partners are easily reachable (very important for lawyers) and always professional and quick to answer. Other law firms should take example on VANDENBULKE's client relationship standards.