We are delighted to inform you that VANDENBULKE's contribution to "Acquisition Finance 2016", in cooperation with Getting the Deal Through, has now been released! In this contribution VANDENBULKE addresses the provisions and obligations for debtors and creditors in structuring international acquisition financing operations through Luxembourg.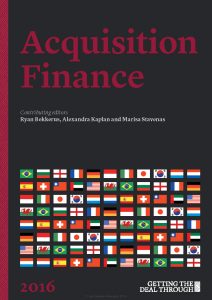 Being an active contributor to Getting the Deal Through's publications for several years, VANDENBULKE is pleased to send you the hard copies upon request
Reproduced with permission from Law Business Research Ltd. This article was first published in Getting the Deal Through: Acquisition Finance 2016, (published in April 2016; contributing editors: Ryan Bekkerus, Alexandra Kaplan and Marisa Stavenas, Simpson Thacher & Bartlett LLP) For further information please visit www.gettingthedealthrough.com.