Which governance in 2017?
VANDENBULKE's corporate law specialists Laurence Jacques, Hervé Précigoux and Denis Van den Bulke will hold a conference on latest legislative changes in Luxembourg company law and their impact on companies' daily management.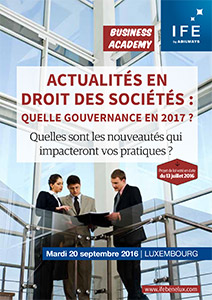 When : 20 September 2016 from 08.45 a.m. to 12:30 a.m.
Where: Novotel, 6 Rue du Fort Niedergruenewald – Luxembourg- Kirchberg
You will find here the detailed programme and the registration formalities.
Although VANDENBULKE has no financial interest in the conference, friends and clients of the firm can benefit from a 20% discount on the listed price. To obtain this discount on registration, please contact Ewa Gutfrind-Jozefowicz.