Join VANDENBULKE and "IFE" Business Academy conference.
Modernisation of the company law,
New VAT obligations,
Update on civil and criminal liabilities,
Role of a director in the firm's business strategic objectives.
What changes in 2017?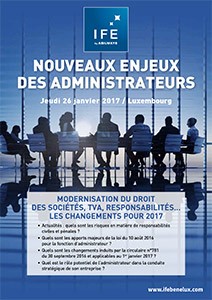 VANDENBULKE speakers:
Laurence Jacques, Partner, will chair the Conference and speak on civil and criminal liabilities of Luxembourg directors.
Denis Van den Bulke, Managing Partner, will speak on directors' role in a company.
You will find hereafter the detailed programme and the registration formalities.
Get 20% discount on registration.
Although VANDENBULKE has no financial interest in the conference, friends and clients of the firm can benefit from a 20% discount on the listed price. To obtain this discount, please complete the registration form including promotional code.