What are the latest practical changes in Company Law? What are the essentials to be retained? And what actions, if any, do you need to take?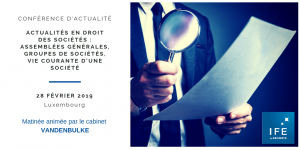 VANDENBULKE and its Corporate Specialists shall host the annual IFE Benelux Conference on Luxembourg Company Law. They will pick-up for you the most salient and latest features that are likely to impact your activity.
Speakers:
You will find hereafter the detailed programme and the registration formalities. The conference will be held in French.
Friends of the firm may obtain a 15% discount on registration. Please contact us for details.